EHS Shore Durometer Hardness Tester Unit
EHS1A/5D is a high-precision digital shore hardness meter. This EHS digital shore durometer gauge adopts high-precision displacement sensor and spring design with high test accuracy.
Shore durometer tester or durometer meter has three measurement modes: maximum mode, maximum average mode, and timing mode; 500 measurement data can be stored as one type of hardness test instrument, and the measurement data can be connected to PC software to export, built-in wireless printing function, you can connect wireless printer to print measurement data.
The digital shore hardness tester/durometer gauge price from our measuring instruments manufacturing company is very reasonable, welcome to order our durometer rubber roller shore hardness tester units. The durometer shore hardness gauge used to measure soft plastic, rubber, synthetic rubber, felt, and leather. The shore A hardness test method is either hand-held for measurement or used in conjunction with the supporting load frame, and durometer hardness unit is the "degree". Different from the leeb portable hardness tester which is mainly used to test the hardness of metal materials, the shore A durometer gauge is focused on rubber and soft plastic hardness test.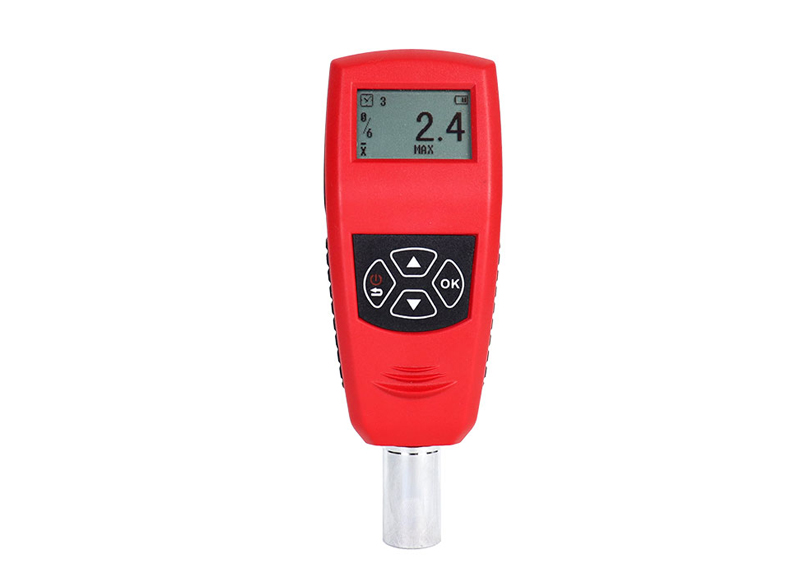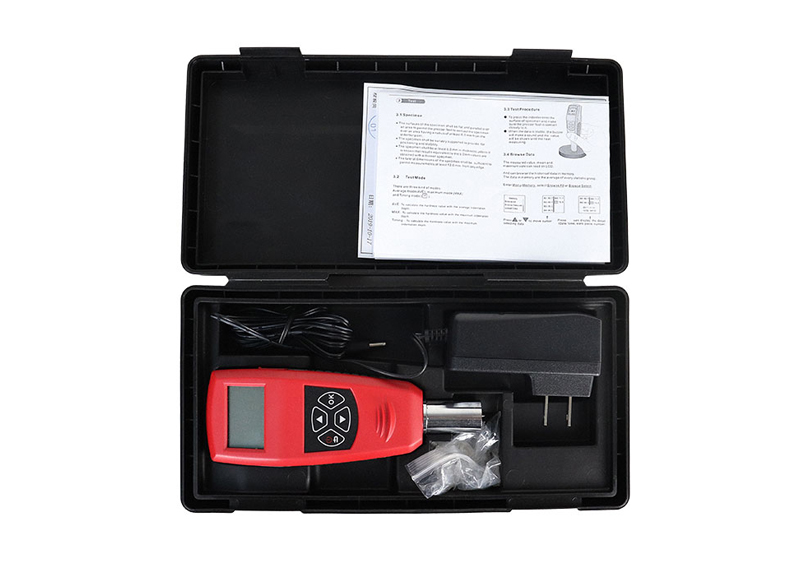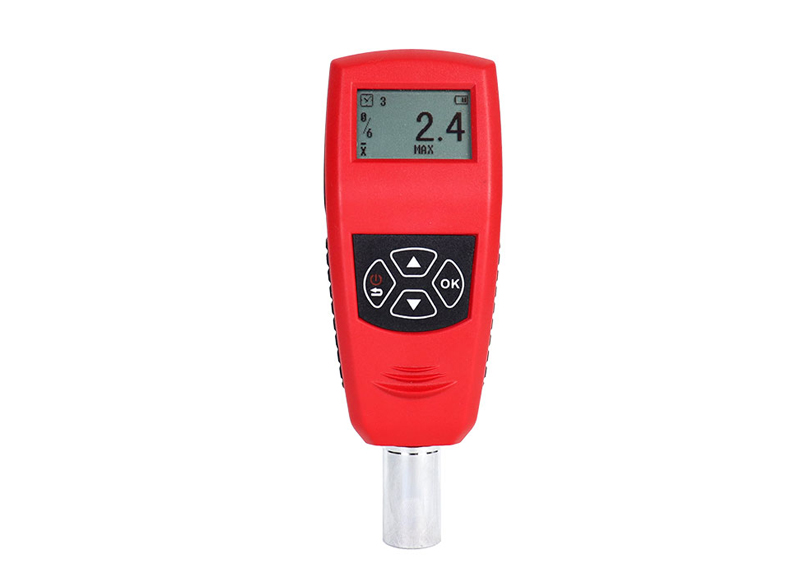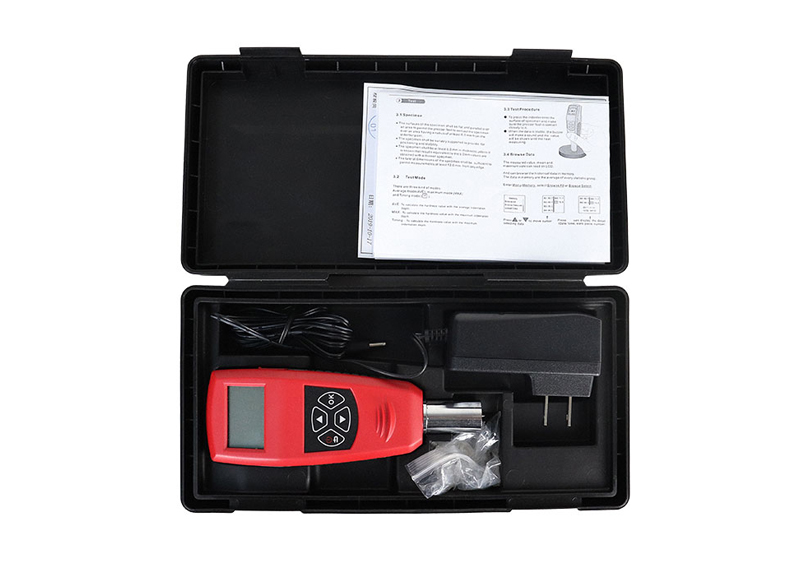 Shore Hardness Gauge-1600 Features
Shore A Durometer Gauge include a Calibration certificate

Shore A Meter conforms to ASTM D 2240, GB/T 531.1, ISO7619-1

Shore Hardness Gauge has a large, easy-to-read LCD display with a backlight

Shore Durometer tester measurement modes are concluding Averaging mode, Max mode, Max-Average mode

Shore Hardness Meter measurement data can be stored, browsed, and batch printing

Printing: Wireless mini printer
Shore Hardness Meter-1600 Specifications
Shore A durometer tester is usually classified into the following types. Digital durometer shore A is used for measurements below 90 degrees, and shore D hardness durometer tester is used for measurements above HA 90 degrees. Shore O hardness shore o durometer tester for rubber is used when the measuring degree is less than 20 degrees and the thickness of the measuring object is less than 3mm (the two are actually used less).
| | |
| --- | --- |
| Accuracy | ≤±1 H |
| Resolution | 0.1 H |
| Display | 128 * 64 dot matrix LCD with backlight |
| Memory | 500 readings |
| Power | 1.5V *3 (AAA alkaline batteries) |
| Operating Environment | -10 to 40℃,20 to 80% RH |
| Dimensions | 150 * 50.5 * 29 mm |
| Weight | 170g |
Model
Type
Indenter
Application
EHS1A
A
Soft vulcanized rubber, natural rubber, nitriles thermoplastic elastomers. flexible polyacrylics and thermosets. wax, felt, and leathers
EHS5C
C
Medium-hard rubber, thermoplastic elastomers, medium-hard plastics, and thermoplastics
EHS5D
D
Hard rubber. thermoplastic elastomers. harder plastics, and thermoplastics
EHS1B
B
Moderately hard rubber, thermoplastic elastomers, paper products, and fibrous materials
EHSoo
OO
Soft rubber, thermoplastic elastomers, very soft plastics, and thermoplastics, medium-density textile windings
EHSo
O
Extremely soft rubber, thermoplastic elastomers. sponge extremely soft plastics and thermoplastics, foams, low-density textile windings, human and animal tissue
EHSdo
DO
Moderately hard rubber, thermoplastic elastomers, and very dense textile windings


How To Use Durometer Gauge?
1. Specimen
(1)The surfaces of the specimen shall be flat and parallel over an area to permit the presser foot to contact the specimen over an area having a radius of at least 6.0 mm from the indenter point.
(2)The specimen shall be suitably supported to provide for positioning and stability.
(3)The specimen shall be at least 6.0 mm in thickness unless it is known that results equivalent to the 6.0mm values are obtained with a thinner specimen.
(4)The lateral dimensions of the specimen shall be sufficient to permit measurements at least 12.0 mm from any edge.
2. Test Mode
There are three kinds of modes:
Average mode(AVE), maximum mode (MAX) , and Timing mode.
AVE: To calculate the hardness value with the average indentation depth.
MAX: To calculate the hardness value with the maximum indentation depth.
Timing: To calculate the hardness value with the maximum indentation depth.
3. Test Procedure
1. press the indenter onto the surface of the specimen and make sure the presser foot is in contact closely with it.
2. When the data is stable, the buzzer of the shore hardness gauge will make a sound and the value will be shown until the next measurement.
4. Reading Test Data
The measured value, mean and maximum value can be read on LCD.
And can browse the historical data in memory. The data in memory are the average of every statistic group.
Enter Menu-Memory, select Browse All, or Browse Select.

5. Data Printing
The test report can be printed using EPX-58P wireless printer. You can set the Auto Print to ON, or print the historical data in memory by Print All and Print Select. The print items can be chosen in Print Items.
Turn on the printer, and put it near the durometer (not more than 2m away). If Auto Print is set to ON When a group of tests is finished the report will print automatically.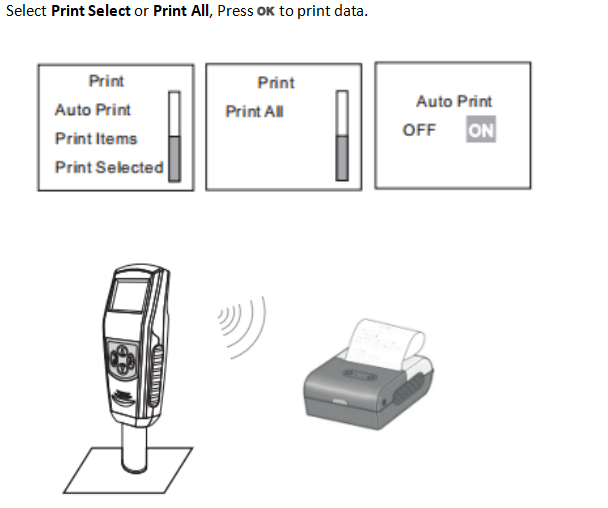 How To Calibrate Shore Hardness Tester?
For long-term use or other reasons, some measurement errors may occur. The error can be eliminated by the calibration of the shore hardness tester unit.
Enter Menu-System-Calibration

Test on a standard hardness block or a standard thickness block.